Recently in a Tuesday Morning store I found some very nice yarn on sale.

It was skeins of Louisa Harding Jasmine yarn in a pretty reddish purple color called "Cheer."

Jasmine is a dk yarn that's 48 percent cotton, 39 percent bamboo viscose, 10 percent silk and 3 percent polyester.

It's 3-ply with a thin metallic silver thread twisted around for a subtle twinkle effect.

The only effect this has upon the feel of the yarn is a coolness mixed with the softness. For some reason the color photographs bluer than it actually is, so I used a photo closest to the actual color and it's a different color yarn. It was just the color that I wanted to use with a very pretty sleeveless dress I had in a very dull blue gray color. (I never thought of such a color as being particularly feminine or romantic.)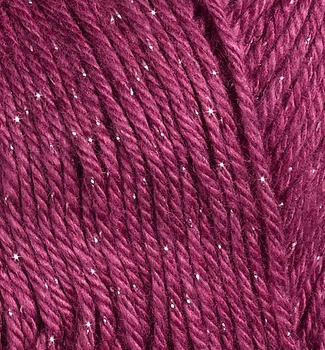 I already had a dk pattern I was eager to knit, SMC Select 1846, a casual yet sophisticated bolero.

It was one of the few knitting patterns I've purchased in the last few years.

Unfortunately the booklet SMC Select Moments doesn't have a very large photo of the finished garment.
I've been struggling with the pattern since I started knitting it yesterday and took it out several times.

The first time was because I hadn't cast on enough stitches while in the knitting group.

Another time I decided I wanted to reverse sides.

I usually prefer the opposite edge to the smooth twisted stitches that are formed when you cast on.

So did the person who knit the garment the model wore, even though that was opposite to the directions.

Yet another time I had messed up the drop stitch pattern.
I didn't like knitting the twisted drop stitch pattern.

The swatch below is very similar. In the bolero the model wore this was the reverse side. I don't know why. (Then again I don't know why a store was selling a summer dress that was essentially sewn inside out with the pockets hanging out on the outside.)

I could see why one would like it, but it wasn't easy to knit, it distorted the gauge, and I don't like long loose strands in knitting.

Something eventually gets caught in them.

So I took it all out again.
I went through a few pattern stitch books until I found an eyelet and garter stitch pattern I can substitute instead.
I've always found my old Mon Tricot Knitting Dictionary very useful. This time I chose the Horizontal Lace Stitch I pattern.
This photo shows the reverse side I'm knitting and there will be a purl ridge between the three or four repeats. It is what I thought what was used for the front edge of the bolero anyway.
My cats were not very patient with me while I worked on this.

I hadn't knitted in a long time and wanted to do so.

Midnight and Emily kept trying to lie on the booklet.

Emily kept walking back and forth across my lap until I yelled at her.

It's not like I haven't been at home paying attention to them.
I think I'm happy with the new version of the bolero that I have on the needles. I've spent the last two evenings wrestling with it. I hope now I can just enjoy knitting it, in shorter spurts of activity.
I should be able to play rounds of Da Bird with the cats in the evening again.